The bathroom is one of the key sanctuaries in our home. More than just functional, it's where we go to relax, unwind, and let the stresses of the day wash down the plughole. That's why it's so important to strike a perfect interior balance—it's impossible to let go completely when you're sitting in a dowdy old tub.
Speaking of old, bathtubs of late have undergone a revolution. The vintage style freestander has had its time in the spotlight—now something more simple has taken its place. Luxurious without being ostentatious, the built-in bath is about to rock your world. Take a look…
1. This calm oasis features nothing but a sunken king size bathtub, cool concrete tiles and a subtle mirrored cabinet hanging on the wall. A skylight is perfectly positioned, allowing bathers to gaze up at the clear blue sky.
2. This luxurious Asian style bathroom features a sunken corner bathtub—with hot tub features! Could you handle the chill?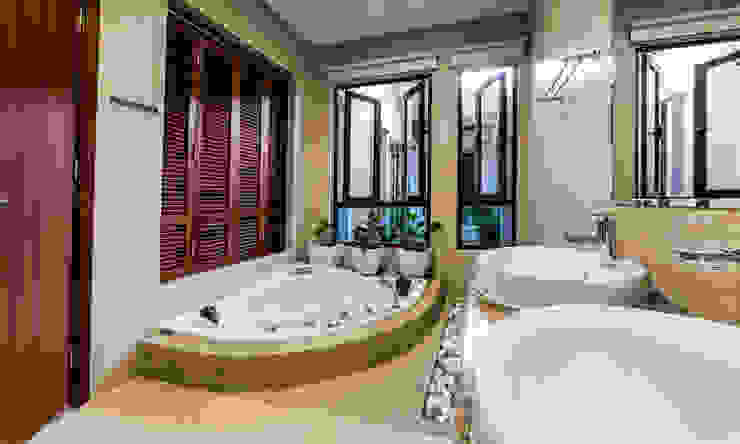 Majestic Contemporary | BUNGALOW
Design Spirits
3. Symmetry reigns in this modern bathroom beauty. Glass walls surround the embedded tub, giving a birds eye view of the trees in the tiny, private courtyard outside.
4. Small bathrooms can have built-in tubs, too! This tiny tiled masterpiece is a minimalist's dream, and even has direct access to the enclosed garden beyond.
5. Modern rusticity is the name of the game in this bathroom. The sunken tub, made from highly polished concrete, is as inviting as it is stylish.
6. Swirling marble adds class and glamour to this medium sized bathroom. A huge bathtub dominates the room—the countryside views and hot tub functions just add to the opulence.
7. Blurring the lines between outside and in, this rustic built-in bath is made of wood and looks out onto its own exclusive spa-style courtyard. Bliss!
8. This bathroom channels fashionable Asian minimalism by lining the side of the built-in white bathtub with glass and elegantly potted plants.
9. Could you imagine a better bathtime view?! Glass doors and well-placed mirrors allow light to flood this expansive bathroom space, and the sunken concrete bathtub looks straight out onto the rolling country vista.
10. Who said that beige has to be boring? In this warm neutral bathroom, the cool swirling tiles add a new dimension to the built-in bathtub at the rear.
11. Citrus tones reign supreme in this small but stylish bathroom. White details cut through the lemon yellow tiling, revealing the bath tucked under the window.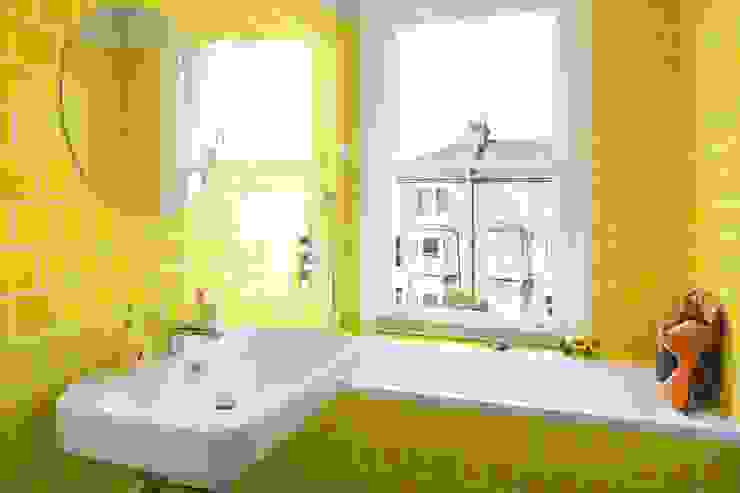 Huddleston Road
Sam Tisdall Architects LLP
12. Step into the future—and into this incredible oval bathtub! Designed with minimalism and functionality in mind, this cool contemporary space proves that less really is more.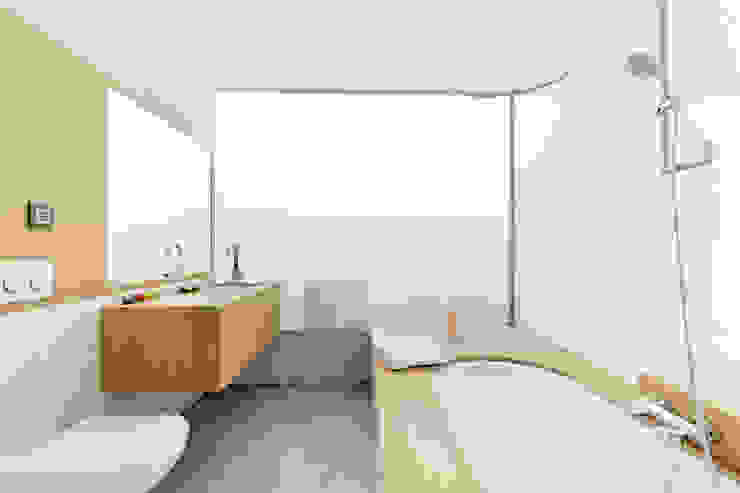 dezanove house designed by iñaki leite—family bathroom on first floor
Inaki Leite Design Ltd.
13. A true spa-style retreat, this bathroom has everything a luxury-lover could wish for. The bathtub itself is set far back in the centre of the room, protected by a swinging glass door.
14. OK, so it's not quite a built-in tub, but it's still fabulous! Expertly fitted into the design of the room, the aubergine-shaped bath has stunning views of the marina outside.
15. This contemporary bathroom is almost abstract in its design. Minimal without being cold, the concrete bathtub is the perfect place to while away long cosy nights with a book and a glass of wine. Now, where did we put the bath bombs…