The space we work in has more of an impact on our ability to focus than we think. A cramped, dusty and messy space is a massive hindrance to productivity, of course, but so is an office that we don't quite connect with. If our at-home study doesn't suit our personal needs, we find ourselves more preoccupied by the shortcomings of our surroundings than by our actual work.
Luckily, creating your ideal home work space doesn't have to be a chore, and it doesn't have to cost the earth, either. Interior designers have perfected the art of crafting the perfect home office over the past decade, and now we're going to pass their wisdom on to you. These 10 tips can be used by anyone, on any budget—the only thing you need is a little imagination…
1. Embrace natural light—choose a room with large windows and light walls to ensure that you stay energised and motivated throughout the day
2. Inspire yourself with meaningful quotes, artwork, and sculpture. Wall decals and pieces by local artists will make your space look stylish and unique.
However, don't go too crazy—a little decor is motivational, too much is distracting.
3. Don't be constrained by office norms—blend elements of eclectic styles into your work space to make it reflect your personality
Concrete walls and a flash of neon create the perfect industrial chic look in this home office.
4. Seek out your ideal desk size. If it's too small, you'll feel cramped. If it's too large, it will almost certainly become a total mess in no time at all
There's no one-size-fits-all solution—what's important is finding the option that's right for you.
5. Invest in a fashionable chair. This modern white and wood beauty is both chic and comfortable.
6. Make your work space adjustable. Moving furniture and decor on a regular basis keeps your mind sharp and helps you to generate fresh ideas
7. Include a library into your design. Sure, Google is great, but sometimes it helps to have just the right reference book on hand for offline research.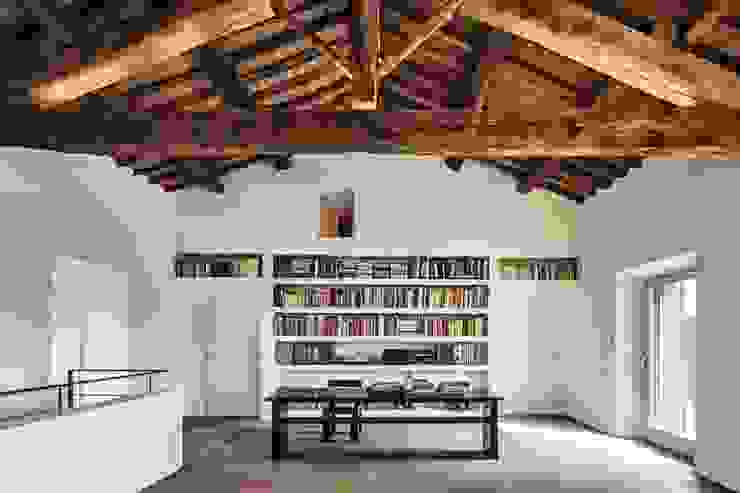 A2 house
vps architetti
8. Make storage a priority, but make sure those books and papers don't turn into a distraction by keeping your shelves and cupboards covered
Even the smallest of work spaces can benefit from this tip—just check out this multifunctional minimalist cubby!
9. Introduce a little greenery—a few plants will brighten up your home office and clean up the air in the room, making it easier to focus and think
10. Dare to be different. Dive into the deepest recesses of your imagination, pull out a list of your favourite movies, paintings, and styles, and make them work for you.
You don't have to go full Beetlejuice, as seen here, but a little individuality never hurts.
11. Let your genius run wild by including a wall-sized blackboard—perfect for working out complex ideas and scribbling down flashes of inspiration!
If you liked this article, check out: 16 little secrets to the perfect home.